The National Wildlife Federation has worked with hunters and anglers since 1936 to tackle the biggest natural resource challenges. The NWF Outdoors Podcast explores the most important conservation issues and the people who do the hard work to safeguard our fish, wildlife, lands, and waters. Hosted by Aaron Kindle, director of sporting advocacy at NWF.
Episodes
Friday Aug 26, 2022
Friday Aug 26, 2022
Continuing with our newfound love of "from the field" podcasts, we take this one to Florida. Podcast co-host Bill Cooksey attended ICAST (a big fishing industry tradeshow) in July and had the opportunity to sit down with Geoff Mullins from the Everglades Foundation and Captain Chris Wittman from Captains for Clean water to talk about the myriad habitat problems in the Everglades and South Florida and what hunters and anglers can do to help. The region is full of iconic hunting and fishing locations such as Lake Okeechobee and Florida Bay, and waterfowl hunters come from around the country to hunt mottled ducks, black-bellied whistling ducks and fulvous ducks. When most people think about Everglades issues, they think pythons and algae closing down beaches, but there's a whole lot more at stake.
Episode links:
https://www.evergladesfoundation.org/
https://captainsforcleanwater.org/
https://www.vanishingparadise.org/restoration-solutions/projects?state=florida
Show Notes:
1:05-Intro to ICAST.
3:22-What have we been doing lately?
5:15-Geoff explains what Everglades restoration means.
6:47-Chris explains restoration from his point of view as a sportsman.
8:50-What is Captains for Clean Water?
11:35-Geoff, where do sportsmen fit in this puzzle?
13:50-Bill offers his take on the issues.
15:55-Chris talks duck hunting and the impact of declining habitat and restoration.
18:05-Geoff, what is the most critical component at this moment?
21:35-How is the state involved financially with restoration?
23:35-Chris discusses the changes he's witnessed to some bucket list Florida destinations.
29:35-What do the next ten years look like?
31:35-Who are the stakeholders?
38:05-Why is this a national issue?
39:55-What should Florida sportsmen be doing?
42:55-What have we missed?
47:15-Words of wisdom from Geoff, Chris and Bill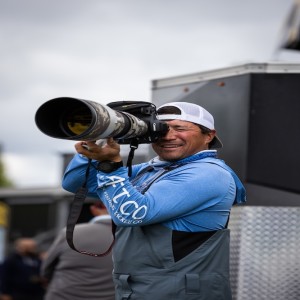 Friday Apr 15, 2022
Friday Apr 15, 2022
Jake Latendresse may be the most well-known sportsmen you've never heard of. He's one of the nation's finest hunter/angler videographers and has produced content for some of the biggest companies and organizations in the world. You see his work on Bassmaster every weekend and on videos and television shows from myriad entities, and it's there because Jake had the courage to live his dreams. As a bar owner, videographer/producer and owner of Prairie Rock Outfitters, there's no doubt he's a driven entrepreneur, but Jake's comments about childhood and conservation are what left Aaron and Bill speechless.
Links:
https://www.bassmaster.com/news/have-camera-will-travel-for-latendresse/
http://lmcollective.com/about/
https://prairierockoutfitters.com/
Show notes:
3:27 – "Everything in moderation, including moderation."
3:38 – Bill gives some background on Jake Latendresse, the guest for the show.
6:12 – Everyone shares what they've been doing outside recently.
7:50 – Jake reflects on the recent below freezing weather events, "It was one of the most extreme weather conditions that we've ever had in the Great Lakes…"
8:49 – Jakes gives an update on the recent happenings in his life.
9:53 - Jakes shares how many events he films per year, relating the "Bass Master" events to a full football season.
11:29 – How does Jake balance all the things he does in addition to being a single dad.
14:18 - How Jake got started and established in sporting media and an early interest in art and photography.
22:00 - Was being fulltime in the outdoors something Jake dreamed about as a kid? (plus: Jake shares a very special story for the first time ever, it's a heartfelt story about what happened one time when he couldn't go hunting with this father. His father never left him home during a hunting trip ever again.)
25:21 - At what point did Jake break through and become a sportsman?
29:39 - A day in the life of Jake capturing the "meat" of events all over the world.
34:30 - Jake talks about what the day is like and the relationships that form when he gets in a boat with a pro angler.
37:30 – Short break for a message from our partner podcast, Artemis Sportswomen!
38:58 - Jake chats about some of his other film projects he has done around the world starting with a sheep hunt in Mongolia.
44:28 – How did Jake meet Bill?
45:12 - Horse incident while hunting stone sheep hunt in B.C.
48:04 – "I carry an expedition medical kit wherever I go…"
52:47 - Jake talks about his father and the Gov. of Tennessee working together.
55:12 – Conservation! Mentorship! When and how did Jake get involved with conserving resources. "My dad pushed conservation on me pretty hard from a very young age."
 59:56 - What advice would Jake give to kids who have a similar dream of following the path he took in life. "Don't force your children to do what you want them to do, support what they want to do. Allow them to be free and go down the road." "Never give up."
1:04:07 - Shout out for the video project that Bill and Jake are working on in the Everglades. Be sure to follow NWF Outdoors and Vanishing Paradise to see more!!
"Everyone deserves to have the opportunity to understand what their great outdoors are all about." -Jake Latendresse-
Tuesday Jun 08, 2021
Tuesday Jun 08, 2021
In the sixth episode of Vanishing Seasons we head to Florida to visit with Travis Thompson, a fifth generation Floridian and hunting and fishing guide. Travis takes us on a multigeneration journey through a life in Florida hunting and fishing hundreds of days a year. He speaks of changes in waterfowl seasons and the difference in what ducks he hunts now compared to a decade ago. He explains how he's had to adapt to different species and different behaviors in his guiding business, and also shares anecdotes of odd things he's seeing and how he thinks hunters and anglers should engage in conservation.