The National Wildlife Federation has worked with hunters and anglers since 1936 to tackle the biggest natural resource challenges. The NWF Outdoors Podcast explores the most important conservation issues and the people who do the hard work to safeguard our fish, wildlife, lands, and waters. Hosted by Aaron Kindle, director of sporting advocacy at NWF.
Episodes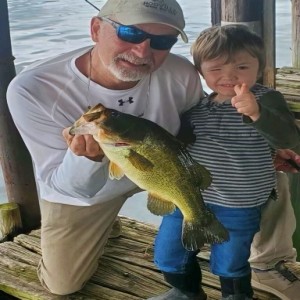 Thursday May 26, 2022
Thursday May 26, 2022
If you love bass fishing, this is the episode for you. Our guest today is Steve Bowman, and when it comes to bass fishing, conservation and tournament angling, he's definitely the guy you want to hear from. From being a member of The Bass Fishing Hall of Fame to his work as manager of Bassmaster.com tournament coverage and BASS Manager of Angler Relations, he's in the mix. His career and work are interesting, but it's when he tells the story of making his first rod from an old car antenna to which he attached drink can pop-tops for guides and a Zebco reel he spent the summer mowing yards to buy when this show goes to the next level. The antenna rod comes back to mind when Steve tells how an African American kid in Little Rock changed his life and how he views the outdoors.
Show links:
https://www.bassfishinghof.com/inductee/steve-bowman
https://www.wired2fish.com/w2f-slide/steve-bowman
https://www.waterfowlerhof.com/
Show notes:
4:31 – Bill, Aaron and Steve share what they've been up too outside recently. Cue the turkey hunting, bass fishing and shed hunting!
9:20 - Steve shares a little background on his childhood, a heartfelt story or two and his earliest memories of fishing with a stick and a string and the adventure of converting an antenna into a fishing rod so he could fish at the pond near his house. "So here's a kid that's right on the verge of going into a gang or going fishing… and he's taking the opportunity to go fishing."
22:37 – Steve continues his discussion on the importance of providing fishing opportunities for every angler. He goes on to discuss high school and college bass fishing programs and the importance of investing in opportunity.
27:56 – Steve talks about how he grew up saying he wanted to hunt and fish for a living. He chats about how he got into journalism and taught himself to write after saying to his boss, "I'll do anything you want me to do, just ever ask me to write."
30:57 - Steve shares an inspiring duck hunting story that changed the direction of his life.
33:35 – Steve talks about the time they wanted to channel the White River.
37:00 - Discussing wildlife management and past deer situations in Arkansas.
39:13 – Short break for a message from our partner podcast, Artemis Sportswomen. For more great content, be sure to follow NWF Outdoors on Instagram, Facebook and Twitter!!
40:05 – Bill brings it back to storytelling and salesmen. Steve talks about his late friend, Ray Scott, and his profound impact on hunting and fishing in the U.S. as well as international bass fishing.
44:05 - The evolution of "catch and release" in our country.
47:16 -  Aaron brings it back to the connection between conservation and opportunity.
51:36 – Bill brings up the topic of fishing with pro anglers and a few things that weekend anglers can pick up from observing these professionals in action.
55:55 – Lots of professional bass fishing professionals were athletes prior… Also a mention of Tom Brady, duck hunting and duck habitat.
59:03 – Bill brings it back to Vanishing Paradise and Steve's involvement in a conservation issues that sportsmen and sportswomen need to know about.
1:02:12 – Steve discusses a few conservation issues in Arkansas, Mississippi and Tennessee.
1:05:15 – Closing statements. 
"Just realize that a greater entity created all this, rather than a core of engineers…" -Steve Bowman
Thursday Mar 03, 2022
Thursday Mar 03, 2022
Aaron and Bill sit down with forester, sportsman, and conservationist Alex Harvey to discuss a life rooted to the outdoors, hunting, and land management and restoration. We cover Alex's family roots and hunting traditions while he helps us understand and unpack several historical and social contexts regarding Southern African American sporting traditions, barriers to land management and ownership, and how the tide is changing for the better. We tell hunting stories, share laughs, and ponder all the great ways hunting and the outdoors unite all people.
Links: https://www.legacylandmanagement.org/ ; https://www.huntersofcolor.org/ ; https://www.instagram.com/legacylandmgmt/ ; https://www.facebook.com/LegacyLM
Show notes:
4:54 – Introduction of Alex Harvey.
5:15 – What has Alex, Aaron and Bill been doing outside recently?
9:48 - Alex's personal background. Where he grew up in Mississippi, cattle farming and growing up in the country #RabbitHunting
18:55 - Alex shares the story of his grandparents and reflects on his connections with ancestors and being on the right path.
24:05 - Highlighting Holt Collier, the hunter who influenced Theodore Roosevelt during a private bear hunt in 1902.
27:00 - Alex shares how he got to where he is today and then highlights his professional work as of right now.
34:01 - Alex shares some of the unique challenges for African American land owners in the South.
37:03 – Has Alex seen an improvement?
39:44 – Short break for a message from our partner podcast, Artemis Sportswomen!
41:02 – Thoughts on forestry restoration, management and what it's like to think about forests 24/7.
44:38 - Alex's introduction to Hunters of Color and how he became a board member.
53:12 - Alex shares his experiences as an African American man in the field.
59:13 – What is going on in Alex's region? Much of it is involved with improving habitat and access for hunters and anglers.
1:00:35 – Closing statements.